Menu streamlining has been all the rage amongst foodservice operators of all sizes and segments over the past few years. Many independents are known for having focused menus that highlight seasonal ingredients, on-trend flavors and their chef's skills. In fact, according to Technomic, full service restaurants have reduced entrée numbers by 12.1% over the two years ending Q4 2017.1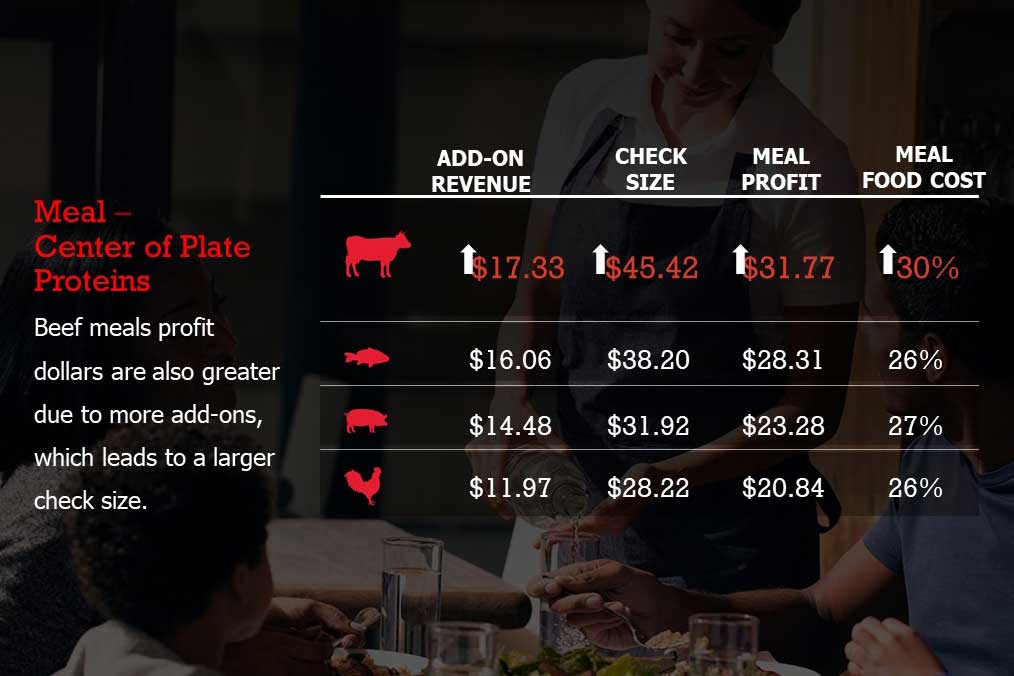 However, in this "less is more" environment, steak's menu presence has held strong, with some cuts even increasing their numbers on American full-service restaurant menus.2 With USDA projecting a 9.1 percent increase in per capita beef consumption between 2015 and 2019,3 it's no wonder 97% of foodservice operators serve beef.4 Let's dive into the numbers to discuss why it's beneficial for foodservice operators to menu beef and highlight specific beef cuts on the upswing.
Diners are Eating More Beef
Since 2003, Beef. It's What's For Dinner., managed by the National Cattlemen's Beef Association on behalf of the Beef Checkoff, has engaged Technomic annually to study how beef is being purchased by the foodservice industry. The 2017 study revealed that beef had the highest gain in volume of all proteins, up a total of 221 million pounds.5

Additional takeaways from the study indicate the resurgence of beef in the foodservice industry:
Beef represents 51 percent of all animal protein growth in 2017
Beef volume has increased for the second year in a row
56 percent of full-service restaurant operators say that having steak on the menu increases traffic
Beef Delivers Greater Dish Profit Dollars Than Other Animal Proteins
Beef is known for having a higher food cost than other animal proteins. However, as Kelley Jones, president and COO of Hospitality Alliance says, "So many chefs erroneously look at that percentage. But you don't bank percentages; you bank dollars."

Beef. It's What's For Dinner. conducted a survey of 572 foodservice operators and confirmed beef delivers greater dish gross profit dollars than other animal proteins, even with a higher percentage food cost.6 The survey revealed that even though beef dishes have an average food cost of 33%, the price premium of Beef entrees allows operators to bring $18.28 towards the bottom line. Alternatively, while chicken entrée food cost is a more attractive 26%, the gross profit is only $11.68, meaning the sale of each Beef vs. chicken entrée brings in an additional $6.60.

However, those dish profit dollars don't tell the whole story. Operators also confirmed total check averages and total meal dollars are higher with Beef. Beef meal margins improve significantly, as well. This is because diners order more high-margin add-ons, such as alcoholic beverages, appetizers, sides and desserts, when ordering beef. Beef drives add-on revenue of $17.33 for a total meal gross profit of $31.77, or 52% greater than that for chicken.

If you're interested in learning more about this study, click here. The study breaks down the learnings into restaurant segments and by entrée item.
Beef Cuts That Make the Cut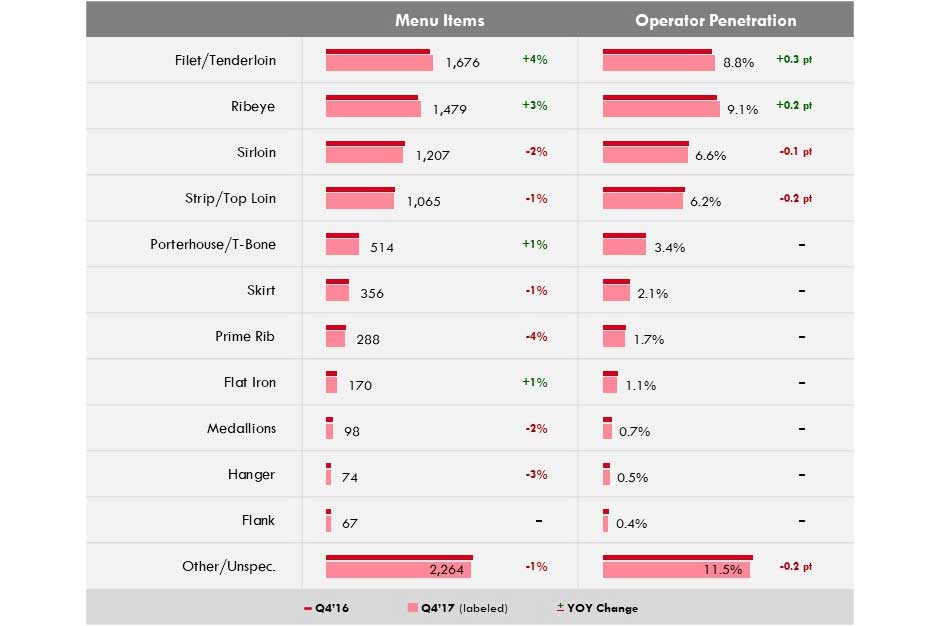 With consolidating menus, one might assume those reductions are being made across the board. However, Technomic menu data for the year ending Q4 2017 indicates steak is not only holding its place on the menu (+0.7% overall), but even growing in some instances in full-service restaurants.

Classic, well-menued cuts, such as Tenderloin Filet and Ribeye have gained increased menu mentions, up 4% and 3%, respectively. And other popular cuts, such as Sirloin and Strip Loin have only experienced modest declines of 2% and 1%, respectively. Put in the context of the larger trend of streamlined menus, it shows that savvy operators continue to keep steaks on menus.

Dive deeper into the data by clicking here, where you'll get access to further details on steak menuing trends and cut size callouts for each of the full-service restaurant segments (including Midscale, Traditional Casual Dining, Polished Casual Dining and Fine Dining).
Stay on the Cutting Edge
The Beef Checkoff continually invests in research to unlock troves of valuable, actionable insights such as those presented above. To stay on top of our research, as well as industry trends and other important information, subscribe to Beef News Now, a newsletter for food industry professionals.
---
This content was provided by The National Cattleman's Beef Association, a contractor to the Beef Checkoff
Entrée Menuing Dashboard, Technomic Ignite, March 2018.
Steak Cuts on Restaurant Menus, Technomic, April 2018.
USDA World Agricultural Supply and Demand Estimates, October, 2018.
Usage and Volumetric Assessment of Beef in Foodservice Study, Technomic, December 2017
Usage and Volumetric Assessment of Beef in Foodservice Study, Technomic, December 2017
Chef's and Beef Value Study, Datassential, December 2016