Summer is here and that's when people start looking to dine outside. From freshly reopened restaurant patios to food carts and trucks, eating outside after being cooped up all winter is the perfect way to greet the warming season.
Sometimes, though, the offerings can all seem a little too similar. Take hot dogs. Everybody has them. Adults love them. The kids love them. They're quick and easy to order, plus they don't require us sitting in one spot while we're enjoying them. How do you choose? The inviting patio on the corner or the little food cart you see a block away?

However you're going to serve them, start with Ridgecrest® Premium All-Beef Hot Dogs. Made with 100 percent Black Angus Beef, they are perfect for any dining establishment, from snack bars to upscale restaurants. The crowd-pleasing flavor keeps customers coming back for more.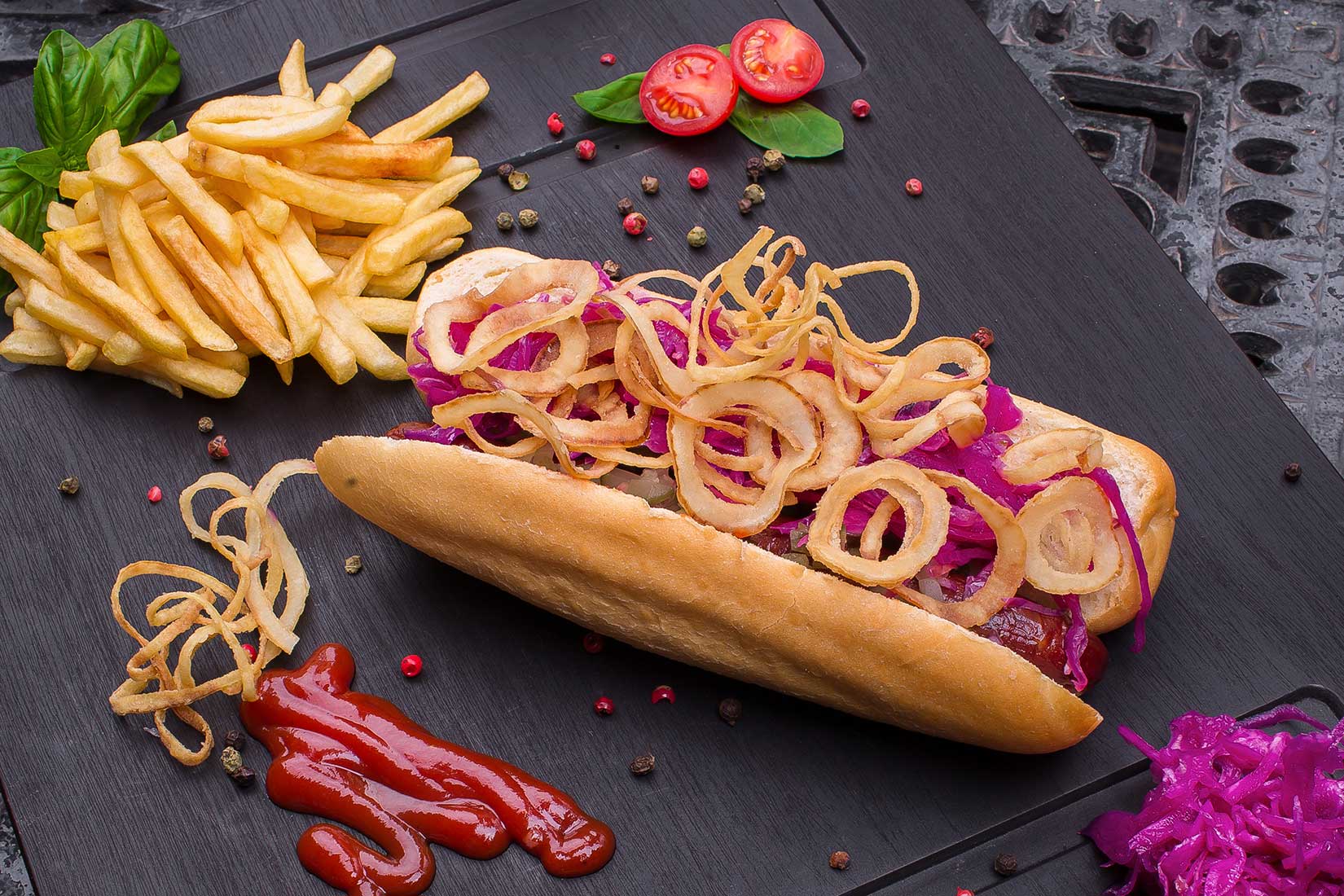 Besides quality dogs and bun, the right toppings can really help us make that decision of where to eat. Whole grain mustard doesn't just taste good, it's also visually pleasing. Top that off with a layer of crispy fried shallots—milder than onions and with a little more upscale panache—and you've got something more than just your usual ball park frank (see recipe below).

Traditional Heritage Ovens® Hot Dog Rolls always make a solid base, but sometimes it's fun to mix it up with a harder, crusty bread like our Heritage Ovens New England Rolls. That might not always work with a hot dog, but it can if you've grated West Creek® Gruyere on the dog and are serving it with a side of jus—a new take on the classic French Dip.

Now, if you really want to grab people's attention, fuse healthy and trendy all into one. For that, a Banh Mi Hot Dog would be the way to go. Thin slices of Peak Fresh Produce® carrots and cucumbers, a little daikon, a sprinkle on fresh cilantro or mint then finish with Sriracha mayo and suddenly everyone is pausing to Instagram the dish before digging in.

Yep, anyone can do a dog. But it's not really that hard to make yours stand out from the rest of the pack.
Piet's Crispy Fried Shallots
Slice shallots into thin rings. Soak in buttermilk for half an hour. Drain.
Mix coating: 1 cup West Creek flour, 1 tsp salt, 2 tbsp smoked paprika, 1 tsp cayenne
Toss shallots in flour mixture. Fry in batches of hot peanut oil.
Spread out on rack to allow to cool.