Balsamic-Herb Roasted Potato Chips with Italian Salsa
About this Recipe
Crispy and crunchy, these chips are a great way to use our West Creek American sliced potatoes. With a fiery salsa and a little hint of sour balsamic vinegar, these chips are a burst in flavor and texture!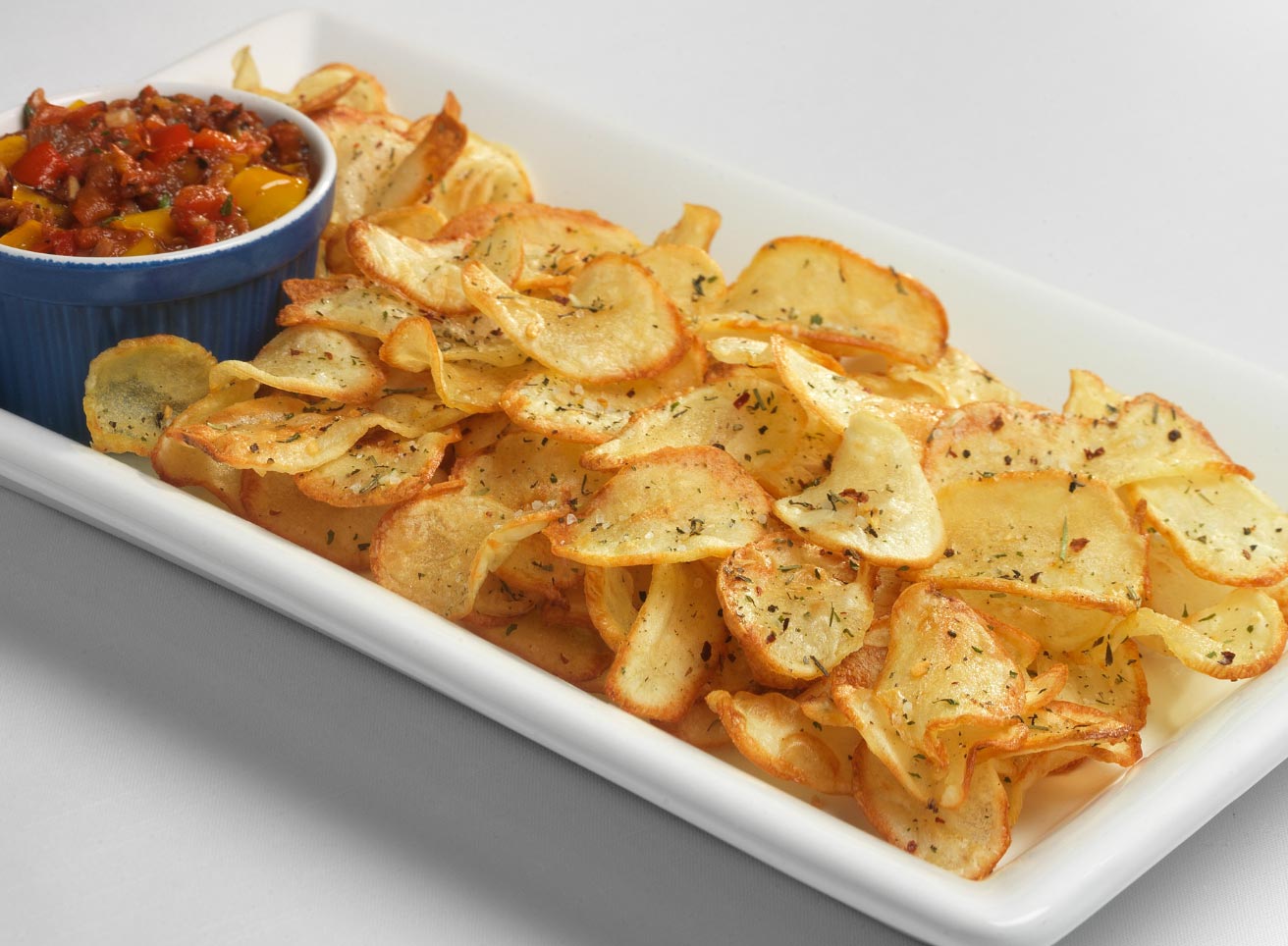 Balsamic-Herb Roasted Potato Chips with Italian Salsa
Directions
Toss red onion, peppers, and garlic with 1½ tablespoons olive oil. Transfer to parchment-lined sheet pan and roast in preheated 400°F convection oven for 20 minutes.
Transfer to bowl of food processor; add fire roasted tomatoes, 2 tablespoons balsamic vinegar, basil, and ¾ teaspoon salt. Pulse mixture until chunks are broken down but salsa still has chunky texture.
Combine ½ cup balsamic vinegar and ¼ cup olive oil.
Cook to Order: Place 1 pound potatoes slices on rack set over a full-size sheet pan, coat evenly with non-stick cooking spray, and roast in preheated 300°F convection for 15 to 20 minutes or until golden and crispy.
Portion 2 ounces salsa with chips and drizzle with 1 tablespoon balsamic oil.
Ingredients
3/4 oz Peak Fresh Produce® Basil
9 cloves Peak Fresh Produce® Garlic, Clove(s), smashed
13 oz Peak Fresh Produce® Onion(s), Red, chopped
7 oz Peak Fresh Produce® Pepper(s), Red Bell, chopped
7 oz Peak Fresh Produce® Pepper(s), Yellow Bell, chopped
1/2 cup(s) Piancone® Oil, Olive
10 Tbsp(s) Piancone® Vinegar, Balsamic
1/3 cup(s) Roma® Italian Seasoning
2 1/2 Tbsp(s) salt, sea
spray, non-stick, as needed
10 oz tomato(es), fire roasted, canned, drained
West Creek® Skin-on Thin Chips, As desired