Banoffee Pie Bao with Caramel Sauce
About this Recipe
Twist up the traditional Chinese savory bun with a sweet, British-inspired, banoffee pie filling: bananas, cream, McCormick Culinary® Vanilla Extract and Cinnamon, plus a drizzle of caramel sauce. Hand-held for easy enjoyment, it's the new cream puff!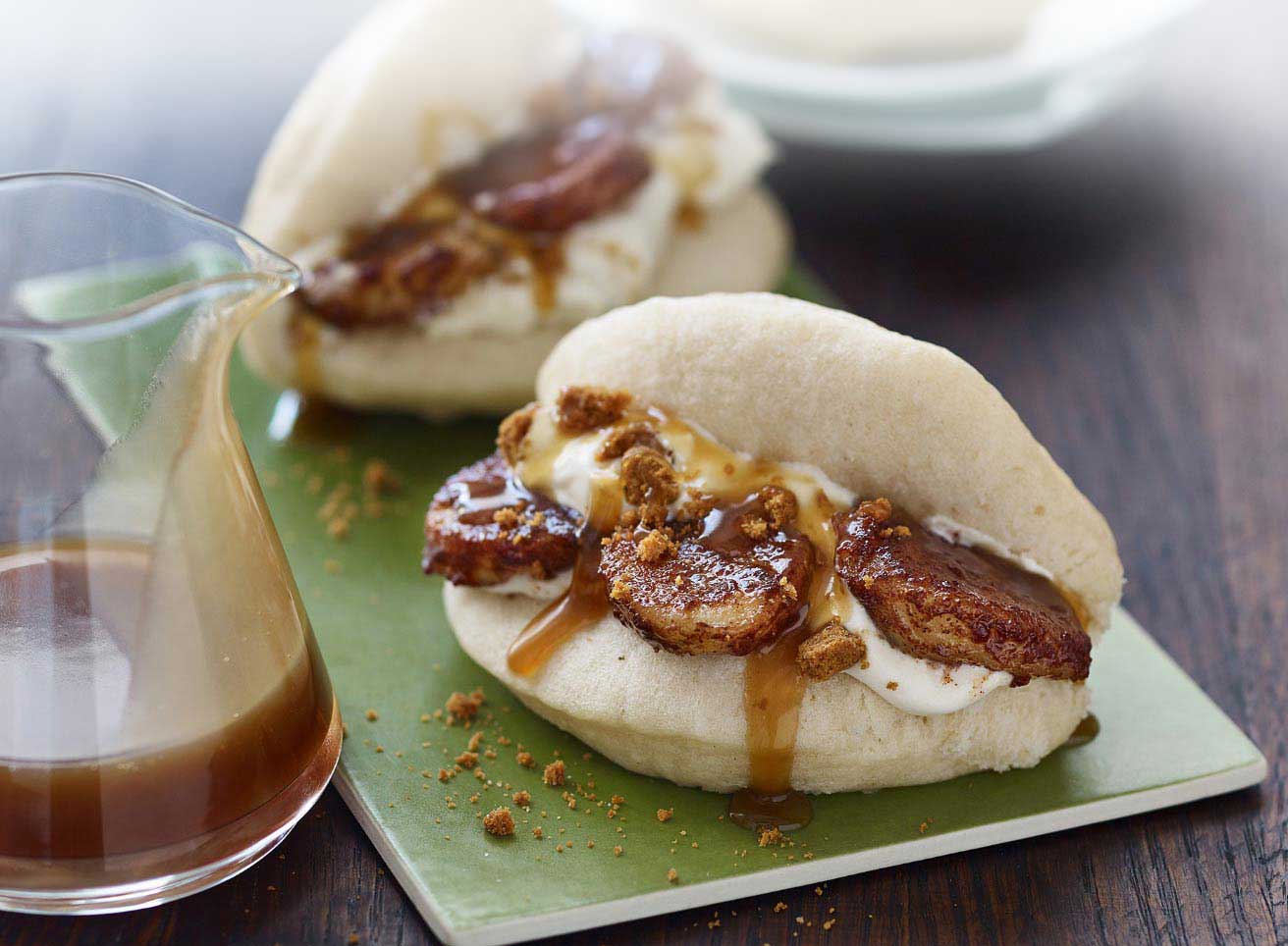 Banoffee Pie Bao with Caramel Sauce
Directions
Mix 2 tablespoons of the sugar and cinnamon in small bowl. Coat banana slices in cinnamon sugar mixture. Heat 2 tablespoons of the butter in large skillet on medium-high heat. Add bananas; cook until lightly browned, turning once. Remove bananas.
Add remaining butter, remaining sugar and vanilla to same pan, stirring to melt sugar. Cook 5 minutes or until caramel is golden brown. Gradually add coconut milk while stirring. Remove caramel sauce from heat.
Beat cream cheese and 1/4 of the caramel sauce in large bowl with electric mixer on medium speed until smooth. Gradually beat in heavy cream. Beat on medium-high speed 2 minutes or until fluffy.
Gently stir crumbled cookies into banoffee pie filling. Gently split bao buns. Dollop a spoonful of Banoffee Pie Filling into each bao bun. Top each with banana slices and drizzle with Caramel Sauce. Serve immediately.
Ingredients
3 banana(s), sliced 1/2" thick on diagonal
1/4 cup Biscoff Cookies, crumbled
4 tbsp Nature's Best Dairy® Butter, divided
1/2 cup Thai Kitchen® Coconut Milk
8 oz Nature's Best Dairy® Cream Cheese, softened
2 tsp McCormick Culinary® Cinnamon, Ground
1/4 cup Nature's Best Dairy® Cream, Heavy
3/4 cup West Creek® Sugar, Granulated
1 tbsp McCormick Culinary® Pure Vanilla Extract, Premium
Bao Buns
Directions
Mix coconut milk, sugar, coconut oil and vanilla in medium bowl. Gradually stir in flour until combined. Work in flour by hand as dough gets stiffer. Form into a ball. Cover and let rest 30 minutes.
Roll out dough one time on lightly floured surface to 1/4-inch thickness. Cut out 16 rounds (3- to 3 1/2-inches in diameter) with cutter. Brush dough rounds lightly with additional coconut oil. Fold over each round without pressing down. Cover with damp kitchen towel. Let rest 10 minutes.
To cook the Bao Buns, pour 1 inch of water into large pot. Bring to boil. Line a steamer basket with parchment paper. Place some of the bao buns in steamer basket. Do not overcrowd steamer as buns will expand during cooking. Insert steamer basket in pot. Cover. Steam on medium heat 10 minutes or until buns have expanded.
Transfer buns to wire rack to cool. Repeat with remaining bao buns.
Ingredients
1 cup Thai Kitchen® Coconut Milk
2 tbsp coconut oil
3 1/2 cups flour, self-rising
1/2 cup West Creek® Sugar, Granulated
2 tsp McCormick Culinary® Pure Vanilla Extract, Premium