Chicken Inasal
About this Recipe
A popular sweet and spicy Filipino street food.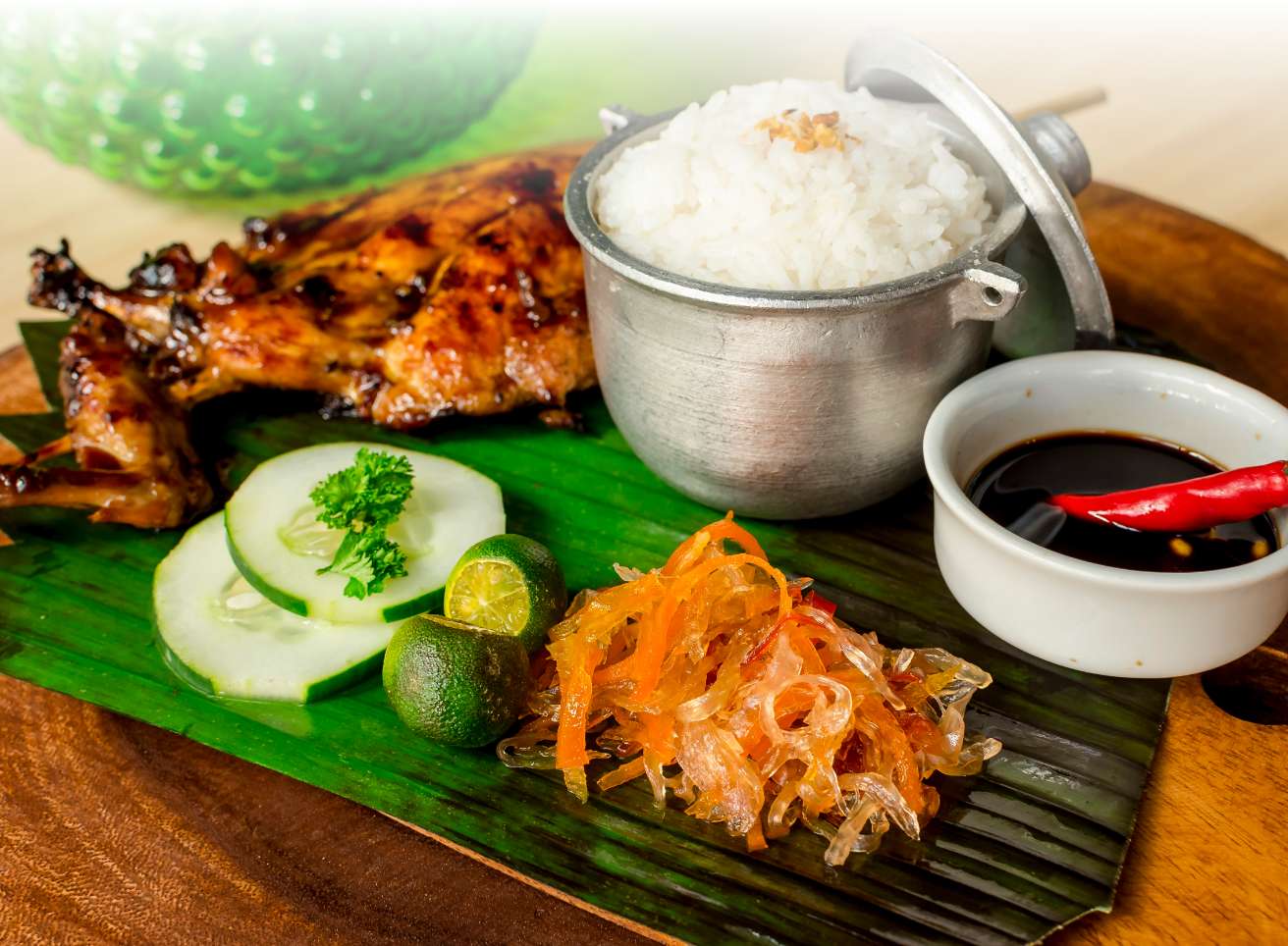 Chicken Inasal
Directions
For the annatto oil heat the coconut oil over medium heat in a saucepan with the annatto seeds. The oil will turn a orange red color in about 8-10 minutes.
Strain the annatto oil and cool. Once cooled whisk in the salt and lemon juice then reserve for basting the chicken.
For the marinade add coconut vinegar, lemon juice, ginger, garlic, lemon grass, brown sugar, and sprite. Pulse to combine.
Cut slits in the skin of the leg quarters and then pour the marinade over the top and refrigerate overnight.
Remove chicken from refrigerator and drain off excess marinade.
Place chicken on medium high heat area of the grill and brush every 6-7 minutes with annatto oil while also turning the chicken.
Once the chicken has reached an internal temperature over 165° remove from grill and plate one leg quarter per person.
Serve the Sawsawan sauce on the side with garlic rice.
Ingredients
2 lbs. West Creek Chicken Leg Quarters
2 Tbsp. Peak Fresh Produce® ginger, minced
2 Tbsp. Peak Fresh Produce® Garlic, minced
3/4 cup lemongrass, finely chopped
1 cup coconut ivinegar
1 ea. Peak Fresh Produce® Lemon(s), juice only
1/4 cup West Creek® Light Brown Sugar
1 cup Sprite
1/2 Tbsp. Roma® Black Pepper, Ground
3 Tbsp. annatto seeds
1 cup coconut oil
1/2 tsp. sea salt
1 ea. Peak Fresh Produce® Lemon(s), juice only
Sawsawan Sauce, recipe follows
Sawsawan Sauce
Directions
For the Sawsawan sauce, pour a half cup of coconut vinegar, lemon juice, Thai chilies, and soy sauce in blender run on low to combine. W
ith the blender running slowly add coconut oil to form emulsification.
Portion into four ramekins for service.
Ingredients
2 ea. Thai red chiles, stems removed & chopped
1/2 cup Asian Pride® Soy Sauce
1/2 cup coconut ivinegar
3 ea. Peak Fresh Produce® Lemon(s), juice only
1 ea. Peak Fresh Produce® Cucumber(s), sliced for garnish