Dragon Fruit and Strawberry Poke
About this Recipe
Pepper's tongue-tingling boldness is tempered by naturally sweet dragon fruit in this creative take on poke. Serve fresh strawberry and diced dragon fruit salad (mock poke) atop a dollop of peppered whipped cream and crispy wonton triangles. Drizzle with a balsamic-pepper syrup for an assertive spice sensation that's here to stay.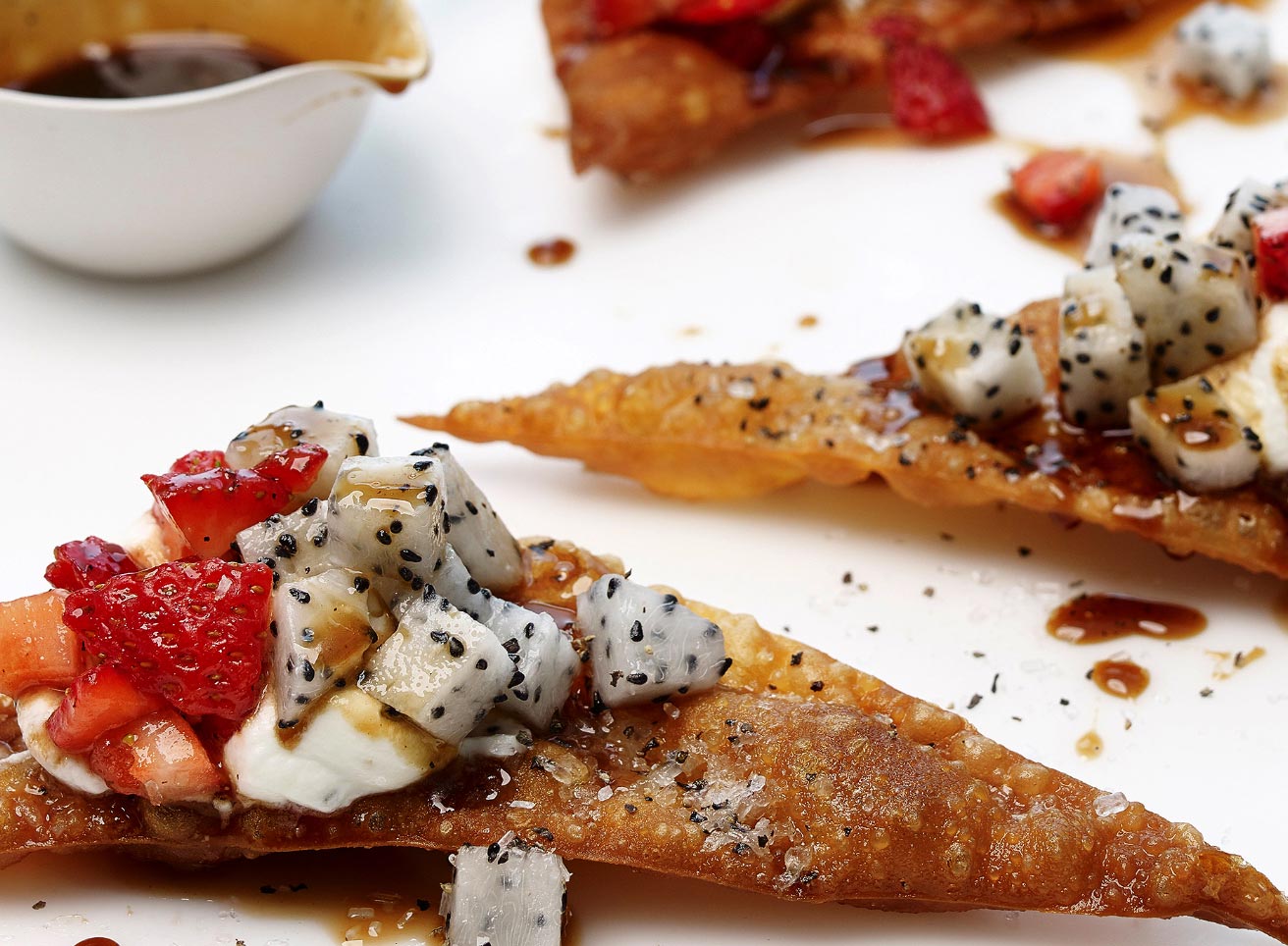 Dragon Fruit and Strawberry Poke
Directions
Mix strawberries with another 3 tablespoons sugar in small bowl. Let stand at room temperature 10 to 15 minutes or until sugar dissolves. Set aside.
Preheat oven to 350ºF. Cut each egg roll wrapper in half to create 2 rectangles. Then cut each rectangle in half diagonally to create 4 triangles. Heat oil in large skillet on medium heat. Fry triangle wrappers in batches until puffed and golden, about 1 to 2 minutes per batch, turning once. Remove with slotted spoon to paper towel-lined baking sheet to drain.
Mix remaining 3 tablespoons sugar and 2 teaspoons pepper in small bowl. Brush fried triangle wrappers with 1/2 of the melted butter. Sprinkle each triangle wrapper with 1/2 teaspoon of the pepper sugar mixture. Brush triangles again with remaining butter. Place triangles on baking sheet. Bake 6 minutes or until golden brown and pepper sugar mixture is caramelized. Let cool slightly on wire rack.
To assemble for serving, place 1 tablespoon peppered whipped cream on the wide side of each triangle crisp. Top with 2 teaspoons each strawberries and dragon fruit. Drizzle with balsamic pepper reduction.
Ingredients
2 tsp McCormick Culinary® Black Pepper, Table Grind
1/4 cup Nature's Best Dairy® Butter, melted, divided
1 1/2 cups dragon fruit, peeled, 1/4in dice
5 egg roll wrapper
1 1/2 cup strawberries, fresh, 1/4in dice
3 tbsp West Creek® Sugar, Granulated
1 cup Brilliance® Premium Oils Vegetable Oil, for frying
Pepper Reduction
Directions
Bring rice syrup, vinegar and 1 tablespoon pepper in small saucepan to boil, whisking occasionally. Reduce heat to medium-low; simmer 15 minutes. Stir in lemon juice. Let stand 1 hour.
Strain balsamic pepper reduction through several layers of cheesecloth into small bowl. Cover and refrigerate until ready to serve.
Ingredients
1/3 cup Piancone® Vinegar, Balsamic
1 tbsp McCormick Culinary® Black Pepper, Table Grind
1/2 cup brown rice syrup
1 tbsp Ascend® Juice, Lemon
Whipped Cream
Directions
Beat cream, 2 tablespoons of sugar and 1/2 teaspoon pepper in medium bowl with electric mixer on medium speed until soft peaks form.
Cover and refrigerate until ready to serve.
Ingredients
1 tsp McCormick Culinary® Black Pepper, Table Grind
1/2 cup Nature's Best Dairy® Cream, Heavy
2 tbsp West Creek® Sugar, Granulated