Roma® Mexican Pizza
About this Recipe
One crispy Contigo® flour tortilla topped with a garlic infused puree of Roma® cannellini beans topped with sauteed Peak® arugula and Contigo® carne asada marinated in Contigo® chimichurri topped creamy Bacio® mozzarella and provolone cheese crowned with a crispy Contigo® flour tortilla topped with Roma® marinara, banana peppers and kalamata olives.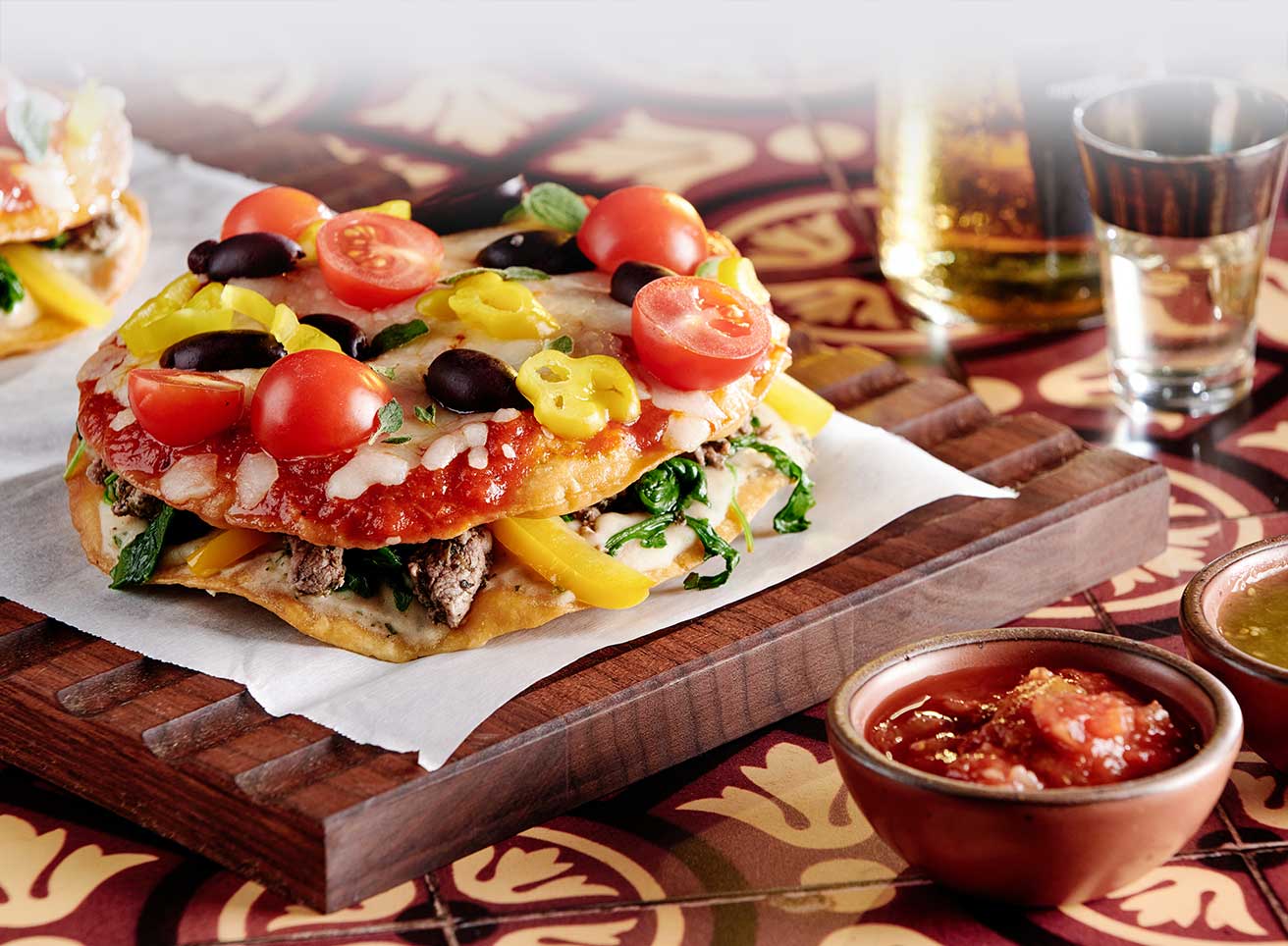 Roma® Mexican Pizza
Directions
Heat fryer oil to 350° then cook flour tortillas until golden brown on both sides. Remove from fryer and place on towel to drain excess oil.
Toss carne asada with chimichurri sauce and rest at room temperature for 20 minutes.
In a sauté pan over medium heat add one and half tablespoons of butter, arugula, bell pepper, half of teaspoon of garlic, and season with a portion of salt then pepper. Cook for 2 -3 minutes to wilt the arugula and soften the bell pepper now add lemon juice and zest continue to cook for 1 minute. Remove from pan and reserve.
In a sauté pan over medium heat add one tablespoon of butter and garlic. Cook for 1 minute. Now add beans and cook for another 1-2 minutes. Remove from pan and place in food processor with salt and pepper. Add basil to beans and olive oil then pulse to puree. Remove from food processor and reserve.
Heat olive oil in sauté pan over medium high heat then add the marinated carne asada and cook for 2-3 minutes then remove from pan and reserve.
Take one fried tortilla and spread with cannellini bean puree to the edge. Top this with sauteed arugula and peppers followed by carne asada and a sprinkle of shredded provolone.
Top with the other fried tortilla then spread the marinara sauce on top with a little shredded provolone cheese.
Bake in a 375°-degree convection oven for 5-8 minutes to warm and melt the cheese.
Remove from oven and place on warm entrée plate then garnish the top with banana peppers, kalamata olives, oregano leaves, and shave parmesan then serve.
Ingredients
2 ea Contigo® Tortilla(s), Flour 6-inch
Brilliance® oil, for frying
4 oz Bacio® Sharp Provolone Blend
6 oz Roma® Marinara Sauce
1/4 cup Roma® Cannellini Beans, drained and rinsed
1 tbsp Peak Fresh Produce® Basil, rough chop
1/2 tbsp Roma® minced garlic
1 tbsp Nature's Best Dairy® Butter, Unsalted
1 1/2 tbsp Piancone® Extra Virgin Olive Oil Unfiltered
1 1/2 cups Peak Fresh Produce® Arugula
1 ea Peak Fresh Produce® Lemon(s), juice and zest
1/2 ea Peak Fresh Produce® peppers, golden bell, julienne thin
1/2 tsp Roma® minced garlic
1 1/2 tbsp Nature's Best Dairy® Butter, Unsalted
1/2 tsp sea salt
1/2 tsp Roma® Black Pepper, Ground
3 oz Contigo® Carne Asada
3 tbsp Contigo® Chimichurri Sauce
2 tbsp Roma® Oil, Olive
2 tbsp Roma® sliced banana peppers, for garnish
2 tbsp Roma® Olives, Kalamata, pitted, cut in half for garnish
1/3 cup Peak Fresh Produce® Tomato(es), Cherry, sliced, for garnish
1/2 tbsp Peak Fresh Produce® Oregano, leaves, for garnish
1 tbsp Piancone Cheese Parmesan, shaved, for garnish