Our expert chefs weigh in on inventive new ways to prepare this classic American dish.
We'll probably never unlock the mystery of the origins of surf and turf, the timeless American dynamic duo claimed by the West and East coasts. Some believe it first appeared in the Seattle Space Needle restaurant Eye of the Needle during the 1962 World's Fair. Others argue the actual term made its debut in 1966 in The Lowell Sun, a Massachusetts newspaper, in an advertisement for a "surf 'n turf dinner featuring filet mignon and baked stuffed Alaskan crab legs."
Regardless of its roots, surf and turf is magnificent. Steakhouses and fine-dining establishments can't go wrong putting it on the menu, and when other restaurants feature it as a special, it typically does well. But does surf and turf need a makeover? In this day of finicky palates, tighter wallets, and health-conscious customers, re-imagining it may be a good call.
Before committing to any changes, however, it's important to note that it's not a one-size-fits-all approach, advises Chef Lonnie Varisco.
"The first thing you always have to look at and address is what is the creative vision at that restaurant, with that chef and that operator/owner," explains the New Orleans-based Varisco, a corporate executive chef at Performance Foodservice. "Is it Italian-style. … are they using a lot of local or regional type things? So, that's the first thing you have to recognize because that gives you direction with ingredients."
For steakhouses, for example, he envisions traditional surf and turf of a filet mignon and lobster meat with a few subtle twists — fun to eat while saving money for the restaurant as well.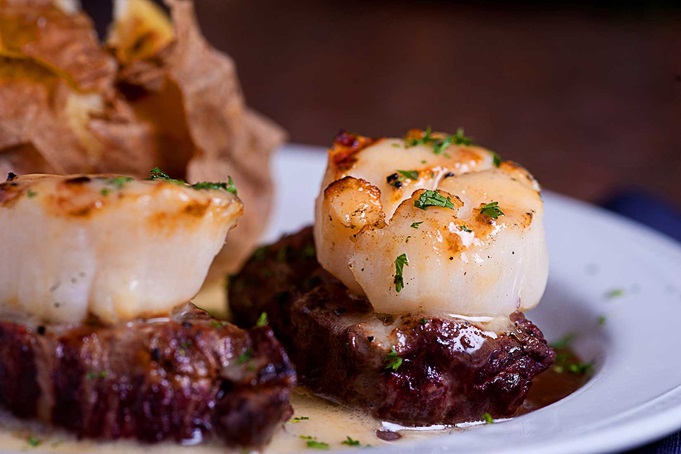 "Offer a lobster au poivre sauce but use [lobster] knuckle and claw meat to sit on top of the filet," he recommends. "At the same time, it makes it a lot more profitable for the restaurant because that's a less expensive item than using warm water lobster tails."
For establishments with more creative flexibility, he recommends pairing steak with freshwater prawns as an alternative to lobster, or using various types of shrimp, like Pacific Coral white shrimp.
When Varisco was a restaurant chef in New Orleans, he loved experimenting with dishes such as shrimp-stuffed or crabmeat-stuffed filets and testing them on prix-fixe menus. It's an opportunity, he says, for operators to try out new dishes for the permanent menu. He also advises them to run a special every night and track its sales for a couple of weeks.
"Let the public tell you if it's a winner or not," recommends Varisco. "If it's selling and it's well received, your salespeople — which is your dining staff — will let you know."
Christine Allhoff, a corporate executive chef with Performance Foodservice's St. Louis-based Middendorf Meat Co., believes now is the perfect time to modernize surf and turf, yet to be mindful of keeping it accessible. Though many diners have been drawn to comfort foods throughout the pandemic, she says, they want to occasionally treat themselves.
"Customers are still looking for that special meal beyond mashed potatoes and gravy or mac and cheese," explains Allhoff. "It may not be a $78 rib-eye, but I think an accessible price point is going to make a difference." Choices like Braveheart's loin strip, tri tip or skirt steak are less expensive alternatives to pair with Chesapeake Bay scallops or Camanchaca Atlantic salmon.
Another way of making surf and turf accessible is to put a spin on something everyone loves — burgers. Rich Smice, a Quad Cities-based executive corporate chef for Performance Foodservice, says burgers continue to be a hot trend in the Midwest.
He adds, "Topping them with seafood (i.e. Harbor Seafood jumbo lump crabmeat) is very crucial and very, very popular. It travels well, it's pretty easy to do, and people know it and understand it."
And as long as people continue to love surf and turf in all its incarnations, who cares where it originated?