The burger — there used to be a boring quality about it no matter where you went. Same buns, same toppings, same slices of yellow cheese, same taste—too often dry and overcooked. Things have changed.
Burgers have become exciting and dynamic. Buns that can absorb the juices without becoming soggy and disintegrating have elevated the texture. Artisanal cheeses add flavor while celebrating local food culture. Toppings are designed to complement the theme of the restaurant.
With these innovations, the burger, once relegated to diners, fast food, and pubs, has exploded onto the scene. Out of the way, hole in the wall diners are now foodie destinations. Trendy hotspots in newly gentrified neighborhoods tout their burger on social media. Even the most upscale and pricey establishments are jumping on the burger bandwagon.
The key to getting all components together for a signature burger isn't that hard. It just takes a little bit of thought to create a unique combination that appeals to your clientele and fully represents your eatery.
The Bun
A good burger needs a solid foundation and buns are that base to build on. Whether you want to go simple or trend-forward, Heritage Ovens® offers a range of options. Buns can telegraph what you're trying to say. Sesame seed buns evoke nostalgia, try out our black and white sesame seed buns for an update of an old classic. An egg-washed glossy bun says simplicity without skimping on quality.
For juicier burgers, dense, buttery brioche buns are the way to go, soaking up every delicious drop without becoming a soggy mess. Although, just on the trend horizon, you can find croissant buns. Layered and flaky, a slightly crispy exterior texture, it reads well on the menu and delivers on the plate.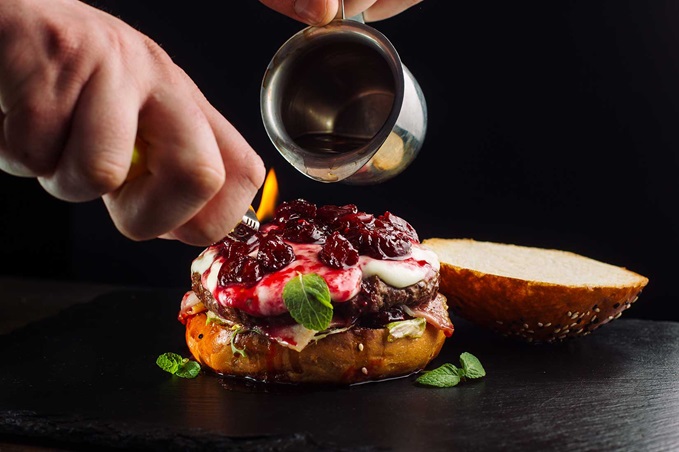 The Meat
Whether you use custom ground or pre-made patties, quality beef with the right fat content is key to a juicy, flavorful burger. Diners today, though, aren't always satisfied with a one size fits all approach to cooking. Unlike steaks, burgers can be a little more difficult in hitting the right cooking temperature. Dispense with the traditional temperatures, medium rare and the like, and simplify it by offering pink or no pink. Customer expectations will be better managed leading to fewer re-fires.
The Cheese
A standout burger simply deserves real cheese. Raise the heat with a habanero pepper jack or go upscale with a wedge of brie. Sure, cheddar is still a popular choice, but try a sharp, aged one for extra depth.
With the resurgence of cheesemaking on family dairies and farms, there has never been a better time to search out a regional or local producer. Or, take a trip around the world, and choose high-end varieties that are important in other countries. Utilizing unique, one-of-a-kind cheese is perfect for creating your signature burger.
The Condiments
House-made condiments are all the rage and an excellent way to make your burger sing. Perhaps a chipotle ketchup, smoky and earthy with a little tang from adobo sauce, is the perfect accompaniment for grilled meat.
Aioli is endlessly customizable. Traditional garlic aioli is excellent, on the fries as well as the burger. Add a little Asian flair with a wasabi aioli or a nod to fresh ingredients by adding in some fresh basil. Regardless, the fresh flavors and ease of customization, make aioli another great tool in making your burger memorable.
Now, that's not to say mayonnaise should be shelved. It's not that hard to make from scratch and, ironically, there is a certain nostalgia surrounding old favorites Duke's and Hellman's—sometimes leading to very heated arguments favoring one or the other. The nostalgia value is strong enough that it doesn't hurt to mention which is being used on the menu.
The Toppings
Lettuce, onion, tomato. It doesn't get more traditional than that. But is it right in your establishment? Toppings can help your burger make sense with the rest of your menu. Are you well known for your homemade fried pickles? Add a layer. Do people travel miles for your chili? Add a dollop. Bacon is always good—a peppered bacon, deep, rich Black Forest bacon, or even Inside Out Candied Bacon are all memorable.
Toppings can also verge to the exotic. Glaze your burger with a little teriyaki and suddenly a slice of pineapple doesn't sound too weird. Fresh avocado brings in a wonderful creaminess and adds brightness to the plate. Or you could go way over the top and add a seared piece of foie gras for the ultimate in luxury.
It's a new world for burgers. Whether inspired by nostalgia or customized as a signature dish, a good burger is a great way to get people to come back again and again. Because who could possibly resist a perfectly seared burger slathered with house-made stone ground mustard, topped with crispy fried pickles and presented on a gorgeous pretzel bun?